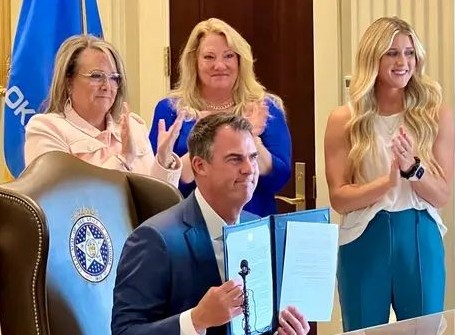 Pictured: Governor Stitt signs Executive Order for Women's Bill of Rights.
news
Womens Bill of Rights Signed by Gov. Stitt
Joining the governor for the signing ceremony for the Executive Order was Independent Women's Voice (IWV), the group that developed the model legislation that inspired measure. Oklahoma is the third state to implement a Women's Bill of Rights (WBOR). Executive Order 2023-20 defines "sex" across the state administrative code and law to mean biological sex at birth. Kansas and Tennessee have adopted similar legislation inspired by IWV's Women's Bill of Rights.
The WBOR model legislation was unvailed in March 2022. It was drafted by the IWV and Independent Women's Law Center (IWLC) in collaboration with the left-leaning feminist organization Women's Liberation Front (WoLF).
At the Executive Order signing, Governor Stitt said, "I am taking decisive executive action to ensure the true definition of the word woman, meaning a biological woman, is what guides the state as we reaffirm our commitment to ensuring the safety, dignity, and sanctity of women across Oklahoma. As long as I'm governor, we will continue to protect women and ensure women-only spaces are reserved solely for biological women."
Somerlyn Cothran, certified Oklahoma woman business owner and senior vice president of investor relations at Independent Women's Forum and for IWV, said, "Today, Governor Stitt is telling my young daughter and the millions of other Oklahoma women and girls that he has their back – that they no longer have to fear for their safety in private female only spaces. In Oklahoma, we protect women. Today, the definition of what a woman is – is solidified for women owned businesses like mine and for women entrepreneurs throughout the state. Without the Governor's executive order today, that distinction would soon cease to mean anything."
Riley Gaines, IWV advisor attended the signing of Governor Stitt's Executive Order said, "Biological differences must be respected in the law to ensure female-only spaces have a future. It is sad that such basic truths must be spelled out to ensure equal protection, but I applaud Governor Stitt for taking decisive action today. Establishing common language by way of the Women's Bill of Rights is a way of saying enough is enough: Oklahoman women deserve equal opportunity, privacy, and safety, and this order will help deliver it."
Oklahoma State Rep. Toni Hasenbeck (R-Elgin) and Sen. Jessica Garvin (R-Duncan) introduced the Women's Bill of Rights in the Oklahoma Legislature earlier this year (House Bill 1449 and Senate Bill 408). The bills would go beyond the Executive Order and further clarify how people of both biological sexes are treated under state law by defining "sex" as a person's biological sex at birth and forbid unfair sex discrimination while allowing for recognition of the differences between sex on issues related to biology, privacy, safety or fairness. Both bills passed their chambers of origin and remain eligible to be considered in the 2024 legislative session.
A version of the WBOR has also been introduced at the federal level in a bicameral resolution sponsored by U.S. Rep. Debbie Lesko (AZ) and U.S. Senator Cindy Hyde-Smith (MS) (H. RES. 115, S. RES 53). Co-sponsors include U.S. Senators Katie Britt (AL), Ted Cruz (TX), Mike Lee (UT), Cynthia Lummis (WY), Roger Marshall (KS), and Marco Rubio (FL) and 26 Representatives including Rep. Kevin Hern (OK), Diana Harshbarger (TN), Mary Miller (IL), Claudia Tenney (NY), Burgess Owens (UT), Jim Banks (IN), and Greg Steube (FL).