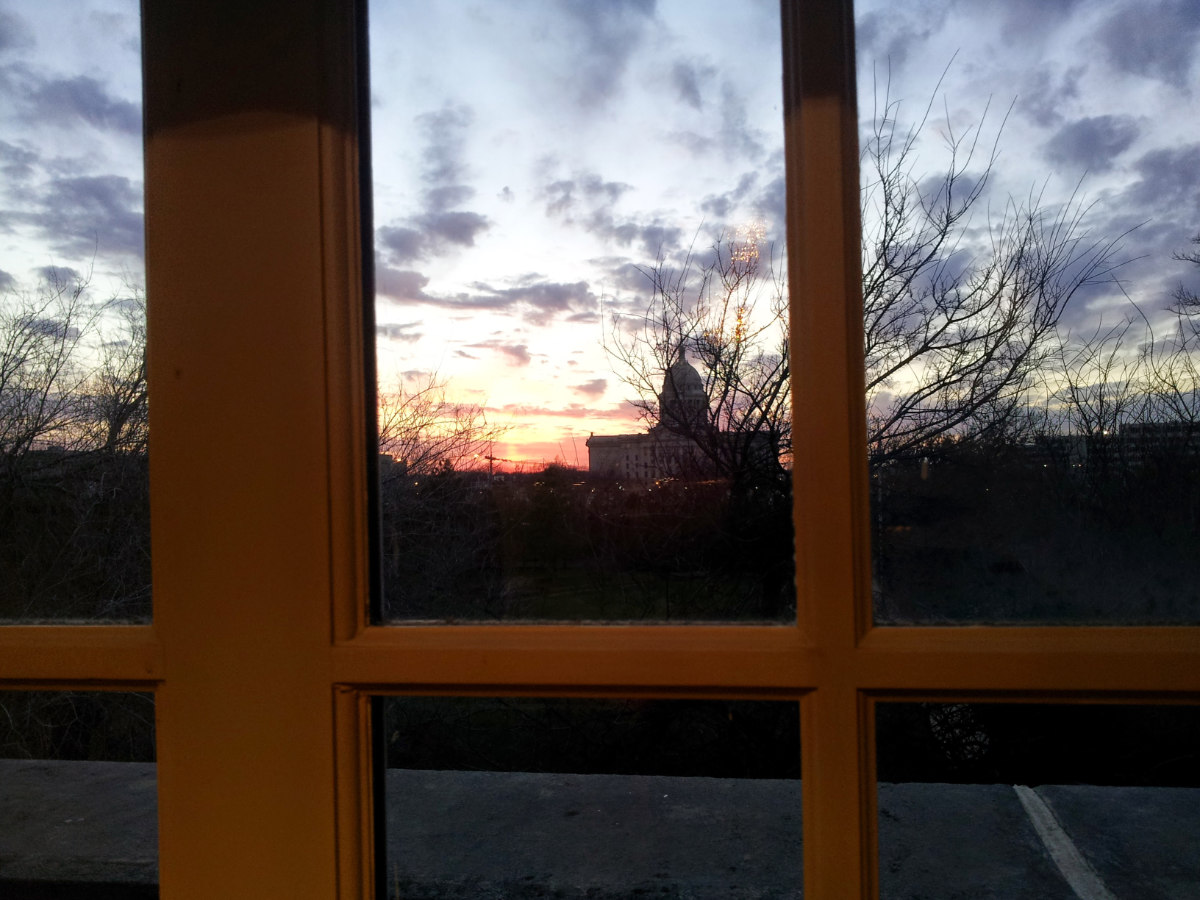 tidbits
Summer 2019 Tidbits
The 2019 Oklahoma Conservative Index rating state legislators is published in this edition. It should come as no surprise that Republicans in the Legislature are more conservative than their fellow Democrats. But, there are some in each party that do not fit the mold. The lowest scoring Republican in the legislature was freshman Rep. John Talley of Stillwater with a 20 percent rating. He edged out Republican Rep. Carol Bush of Tulsa, who scored 23 percent, for that distinction. The highest scoring Democrat was Sen. J.J. Dossett of Sperry with 43 percent.
Gov. Stitt Sells State Plane
One of Gov. Kevin Stitt's first executive orders was to sell the state's airplane. The 1990 Beech B300 King Air was costing about $1 million a year to use and maintain, said Stitt, who is a pilot. It had been used by former Gov. Mary Fallin and previous governors. It was purchased in 1997 when Gov. Frank Keating was in office. "If you're not flying 400 hours a year, it just doesn't make sense to own your own airplane," Stitt said at the press conference about his first executive orders. "You can be better off just leasing." The plane has since been sold for $1.2 million. Gov. Stitt said he will rely on donations of private flights and if they cannot be secured, he will fly commercial.
Stitt Launches Oklahoma Checkbook
On June 12, Governor Kevin Stitt announced the launch of Oklahoma Checkbook, fulfilling a campaign promise to provide Oklahomans with an easy-to-navigate site so they can understand how their taxpayer dollars are being spent. The interactive website, which provides near real time data on the state's expenses, ensures citizens can quickly and easily review the state's ledger, providing a greater means of accountability and transparency. "Since day one I have said we need to put our state government checkbook online so the people of Oklahoma can hold their agencies and elected officials accountable," said Stitt. "Oklahoma Checkbook creates a level of accountability and transparency within Oklahoma's government that is unprecedented. I look forward to seeing how this user friendly tool helps keep us on track to becoming a top ten state in budget transparency."
The initiative is a partnership between the Stitt Administration and the Office of the State Treasurer. "Today we are opening a window to let the light shine brightly on state government spending," State Treasurer Randy McDaniel said."The use of taxpayer funds should be transparent and readily available. I'm honored to work with Governor Stitt and his leadership team to improve openness and accountability in state government. "
The site is built on extensive datasets. Users can visualize the data using the interactive features and dive into the details of each expense down to the transaction level. It is powered by OpenGov, the leading cloud-based solution for government budgeting, performance, and communications. Oklahoma Checkbook can be accessed at: checkbook.ok.gov
Governor Takes Action on Bills
The 2019 session of the 57th Oklahoma Legislature officially ended on May 31, although lawmakers adjourned the Thursday of the previous week. They left the door open to return before the last official day if necessary. The session ended with lawmakers passing an $8.1 billion budget, which marked the first time state history that appropriations have exceeded $8. The budget included a second annual pay raise for teachers and other state employees, but lawmakers were also able to deposit $200 million of this year's surplus into savings. This is estimated to have $1 billion in total savings. Governor Kevin Stitt was very busy that final week considering the remaining bills sent to him during the final two weeks of the session. The governor signed 514 bills and one joint resolution. He vetoed 16 bills and took no action on two measures. Legislators filed almost 3,000 bills this session, and the 533 bills acted upon by the governor is the most in at least the last eight years. The second session of the 57th Legislature will convene on Monday, February 3, 2020.
Interim Studies
Senate President Pro Tempore Greg Treat approved 72 state Senate interim studies to be completed by November 8, and which cover topics including education, health care and mental health services, criminal justice policies and retirement issues. Senate members use interim studies to take a more in-depth look at and hear from subject-matter experts about potential legislation and policies on a variety of topics. Interim studies are assigned to the Senate committee with jurisdiction over the subject matter.
House Speaker Charles McCall approved 96 of the 146 interim study requests submitted by House members. Eighty-four individual studies were approved and 12 requests were combined into six studies. Forty-nine requests were not approved with one request withdrawn. Each approved study was assigned to a standing House committee for possible consideration. It will be up to the committee chair and the requesting member to work out the specifics of the study's hearing. Interim studies can be conducted between August 6 and November 22. Speaker McCall is not limiting hearings to two days per week as has been the practice in recent years.
Rep. Stone Won't Seek Reelection
On June 4, State Rep. Shane Stone (D-OKC) announced that he does not plan to seek a fourth term as House District 89's representative. Stone was elected to the Oklahoma House in 2014. Part of House Democratic leadership, Stone served this past session as the Assistant Democratic Minority Leader. "Serving South Oklahoma City in the State House has been a dream come true," Stone said. "However, after much consideration, I have decided not to seek reelection in 2020." Rep. Stone scored zero on the 2019 Oklahoma Conservative Index, and has a cumulative average of 39% for the five years he has served in the Legislature.
Rep. Perryman Won't Seek Reelection
Oklahoma House Minority Floor Leader David Perryman (D-Chickasha) announced on July 22 that he does not plan to seek a fifth term as House District 56 state representative. Perryman was elected to the Oklahoma House in 2012 and has served as Minority Floor Leader since 2016. "After much consideration, I have decided not to seek reelection in 2020," Perryman said. "Politics is all about timing," Perryman said. "I see more youth and vigor and ability in our caucus than I have in a long time, and because of that optimism, I feel like it is time for me to move over and find a different way to apply myself." Although Perryman is leaving the caucus early, he still plans to be involved in his community, resume his full-time law practice in Chickasha and to continue to advocate for Oklahoma families across our state. Rep. Perryman scored 10% on the 2019 Oklahoma Conservative Index, and has a cumulative average of 37% for the seven years he has served in the Legislature.
Voter Address Confirmation Notices
This past spring, more than 181,000 Address Confirmation Notices were mailed by the State Election Board to certain Oklahoma voters, as required by law. Nearly two months later, more than 134,000 notices remained outstanding, state election officials. Voters who did not respond to the Address Confirmation Notice by July 27 will be declared "inactive." State and federal law require that Address Confirmation Notices be mailed to certain voters every two years. Voters who do not respond by the deadline will automatically be designated as "inactive" voters. "Inactive" voters are still registered voters who are eligible to vote, and can automatically change their status to "active" by voting or updating their registration during the next two General Election cycles. Next-of-kin who need to cancel the registration of a deceased relative or those who have moved out of state can complete a Request to Cancel Voter Registration.
Judge Upholds Law to Prohibit Abortions
On July 12, Attorney General Mike Hunter secured an important victory for unborn children as Oklahoma County District Judge Cindy Truong upheld a 2015 state law that bans dismemberment abortions. The legislation, House Bill 1721, bans the gruesome practice of dismembering unborn children while they are still alive in the womb. "Dismemberment abortions are barbaric, brutal and subject unborn children to more cruelty that we allow for death row inmates," Attorney General Hunter said. "It is unconscionable to think that we would allow this practice to continue. Judge Truong is to be commended for declaring this legislation constitutional. Today is a major victory for basic human decency in Oklahoma." Dismemberment abortions are typically performed during the second trimester of pregnancy. During the procedure, the living child is dismembered, limb by limb, until it bleeds to death, and the remains are extracted from the womb. When passed, HB 1721 received overwhelming, bipartisan support from both chambers of the legislature.
Keep Your Vehicle License Plate
The Oklahoma Tax Commission (OTC) is alerting motorists about a law change (SB 1339) that went into effect July 1, 2019. Oklahomans will now keep their tag when they sell or trade in their vehicles, like residents of 42 other states. The new system replaces the old process of license plates staying with the cars after they are sold and then registered to new owners. Once drivers take the plate from their old vehicle, they will then put the old tag on their next vehicle after updating their registration. The buyer of the sold vehicle will be responsible for replacing the car's tag with the old tag that came off their previous car or by purchasing a new license plate from the OTC or a local tag agency. You are also required to keep your registration certificate in your vehicle. One of the benefits will be to assist law enforcement in tracking who currently owns a vehicle. This will cut down on past owners receiving turnpike fines, parking tickets or other issues involving their old vehicles. The new process passed in the 2018 legislative session and was signed by then-governor Mary Fallin.
ICE and Oklahoma County Jail
The diverse reactions of Oklahoma City Mayor David Holt and Oklahoma County Commissioner Brian Maughan to the presence of U.S. Immigration and Customs Enforcement (ICE) agents in the Oklahoma County jail is instructive. Holt expressed concern that the presence of such agents might make the Oklahoma City "immigrant community" fearful, Maughan had a different view. "ICE agents at the jail have assisted in identifying and successfully prosecuting individuals for serious crimes committed in Oklahoma County, including major felonies that endangered the lives and properties of Oklahomans," Maughan said in response. "It is simply irresponsible to suggest that local law enforcement give up that relationship." For Holt to suggest that the "immigrant community" has a problem with deporting murderers, rapists, and robbers is an insult to the "immigrant community" of Oklahoma County. Holt seems to take the liberal line on most issues, including this one.
Time to Stop Licensing Polygraph Examiners
The 1889 Institute, an Oklahoma state policy think tank, has published "Polygraph Examiner Licensure in Oklahoma," which calls for allowing the Oklahoma Polygraph Examiners Board to expire on its sunset date of July 1, 2020. The public health and welfare is not enhanced by polygraph examiner licensing, making it clear that, like most occupational licensing, its main purpose is to protect those licensed from competition. This short report is the latest installment in the 1889 Institute's Licensing Directory for Oklahoma. "Polygraph examiner licensing in Oklahoma requires a college degree, but the degree does not have to be related to the job at all," said Luke Tucker, author of the report and currently a graduate intern at the 1889 Institute. "What's more," he said, "while polygraph examining could be learned through an apprenticeship, state law requires applicants to complete an accredited polygraph program, with the nearest option in San Antonio."
It's not as if polygraph examining is actually much of a science. Federal law prohibits polygraphs from being used in hiring decisions. This is partly because, as the U.S. Supreme Court has put it, polygraph testing's accuracy rate is "little better than could be obtained by the toss of a coin." There are 23 states do not license polygraph examiners. "Polygraph examiner licensing is just one more way Oklahoma's legislature has unjustifiably erected impediments to opportunity," said Byron Schlomach, Director of the 1889 Institute. "We have so far identified a number of occupations in Oklahoma that are similarly unjustifiably licensed, including funeral directors and embalmers, electrologists, cosmetology/barbering, pedorthists, social workers, locksmiths, and massage therapists," he said. Schlomach pointed out that even with the creation of an Occupational Licensing Advisory Commission, there has been little action from the legislature to rein in occupational licensing. The publication, "Polygraph Examiner Licensure in Oklahoma" and other reports on licensing can be found on the nonprofit's website at: http://www.1889institute.org/licensing
Death of Former Rep Charlie Joyner
Former state Rep. Charlie Joyner (R- Midwest City) died on April 28. Joyner, 78, was a retired fire chief, was a member of the Midwest City Council prior to being elected to the District 95 post in the House of Representatives in 2006. He was reelected in 2008, 2010, 2012 and 2014, but did not seek reelection in 2016. He had a 65% cumulative average on the Oklahoma Conservative Index for the ten years he served in the Legislature.
Death of Former Sen. Billy Mickle
Former state Sen. Billy Mickle (D-Durant) died May 6 at the age of 73. Mickle served as an Oklahoma State Senator from 1987 until his retirement in 2002. He was a Durant City Council member in the early 1980's, and mayor of the city for two years. Before his election to the state senate, Mickle was an attorney and served as an associate district judge in Bryan County. Mickle served as the State Senator for Oklahoma's Sixth Senate District for 15 years where he became the Majority Leader. He was a Vietnam veteran who served in the United States Marine Corps. He had a 16% cumulative average on the Oklahoma Conservative Index.
Death of former Sen. Jonathan Nichols
Former Sen. Jonathan Nichols (R-Norman) died of a gunshot wound in his home on June 5. He was 53 years old. A family member called 911 from the home where Nichols lived with his wife and two daughters. Nichols was elected to the Senate District 15 seat in 2000 and was term-limited in 2012. He graduated from OU with his juris doctorate in 1993 and worked as an attorney and as an assistant district attorney in Cleveland County. Nichols, was working as a senior policy advisor to Oklahoma House Speaker Charles McCall at the time of his death, and had served as the University of Oklahoma's vice president of governmental relations from 2016 to 2018. He had a 65% cumulative average on the Oklahoma Conservative Index.
Death of former Sen. Earl Garrison
Former State Senator Earl Garrison (D-Muskogee died on June 9. Garrison, 78, represented District 9 from 2004 to 2016. He also served as assistant minority leader. Garrison began a teaching career at Mid-Del Schools and then went on to teach classes and coach basketball at Oscar Rose Junior College (now Rose State College) where he enrolled the college's first student. He briefly worked as an accreditation officer with the State Department of Education before serving approximately six years as superintendent of Fort Gibson Schools. He completed his education career serving as superintendent of Indian Capital Technology Center from 1997 to 2004. He had a 36% cumulative average on the Oklahoma Conservative Index.