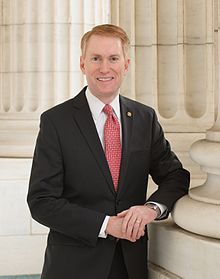 Pictured: Sen. James Lankford
news
Lankford Apologizes for Challenging the Presidential Election Results
Lankford was attacked by some advocates of the Tulsa Race Massacre Commission after his support for the effort to create a commission to study the charges of widespread election fraud in the past election, with calls for his expulsion off the commission studying the infamous 1921 Tulsa Race Riot. Now re-named the Tulsa Race Massacre, the event was precipitated when there was an attempt by some white Tulsans to lynch a black man who had been accused of attempting to rape a white woman. In fact, the young man, Dick Rowland, was about to be released by police for lack of evidence when the riot broke out.
In the ensuing race war, several blocks of the predominantly black Greenwood district of Tulsa was destroyed. Exactly how many people – white and black – who were killed is still disputed.
But what did Lankford's call for a commission to investigate the outcome of a presidential contest have to do with his membership on a commission studying an event in 1921 in Tulsa, Oklahoma?
Nothing really, but those who called for Lankford's expulsion – note that Lankford and the other senators were citing an 1876 Electoral Commission created by Congress to settle disputes over that year's disputed presidential election, in which Republican Rutherford Hayes received 165 electoral votes to 184 for Democrat Samuel Tilden. Twenty other votes were in dispute. One in Oregon was quickly decided for Hayes, but he need the remaining 19 votes in three states – Florida, Louisiana, and South Carolina – to win the election.
The problem was that the electoral votes in those three states were in dispute, with two sets of election returns submitted to Congress, with one in each state favoring Hayes and another favoring Tilden. A commission was appointed by Congress to study the issue and the 15-member commission of eight Republicans and seven Democrats, not surprisingly voted 8-7 that Hayes rather than Tilden had carried all three states.
When Democrats refused to accept the decision of the Commission, Republicans offered a compromise – Hayes would serve only one term, a southern Democrat would be named postmaster general, and federal troops that had occupied the three states since the Civil War would be withdrawn. Although this later compromise had absolutely nothing to do with the Electoral Commission that Lankford and other senators had cited as a precedent, his detractors argued that the withdraw of federal troops led to the imposition of segregation laws, and therefore Lankford et al were using a "Jim Crow" precedent.
Such reasoning is, of course, rank demagoguery, but rather than call it that, Lankford chose to buckle to the absurd insinuation that he was some sort of racist, and apologize.
"What I did not realize," Lankford wrote in his letter pleading for forgiveness, "was all the national conversation about states like Georgia, Pennsylvania, and Michigan, was seen as casting doubt on the validity of votes coming out of predominantly black communities like Atlanta, Philadelphia, and Detroit." Lankford added, "I can assure you, my intent to give a voice to Oklahomans who had questions was never an intent to diminish the voice of any black American."
Finally, a contrite Lankford said, "I should have recognized how what I said and what I did could be interpreted by many of you. I deeply regret my blindness to that perception, and for that I am sorry."
Lankford even went on Public Radio Tulsa, and spoke about President Donald Trump's January 6th speech. "The difficulty is trying to be able to evaluate, was there something unique about this particular speech that would have incited a riot." Actually, it is not difficult at all – regardless of what one thinks about Trump, he said nothing in the speech that could remotely have been taken as calling for an invasion of the U.S. Capitol.
It is a common tactic for those on the Left to attempt to tar opponents of their agenda as white supremacists. Some politicians, afraid that such demagoguery will stick, quickly capitulate. That appears to be the case with Lankford.
Trump carried all 77 counties in Oklahoma. In fact, no Democrat has managed to carry a single county in the state since 2000. It is doubtful that Lankford was going to get many, if any, of the votes of those who have opted to use the race card against him. No one seriously thinks that Lankford is a racist, but his decision in this case could very well precipitate anger from those very Republicans who have supported him in the past – and could lead to a primary challenge for the senator in 2022.
It is hard to believe that Lankford is so naive as to think those who have attacked him with their bogus charge are sincere in their accusations, but perhaps he is. He would not be the first Republican politician who has meekly submitted to such public shaming, and he will likely not be the last.