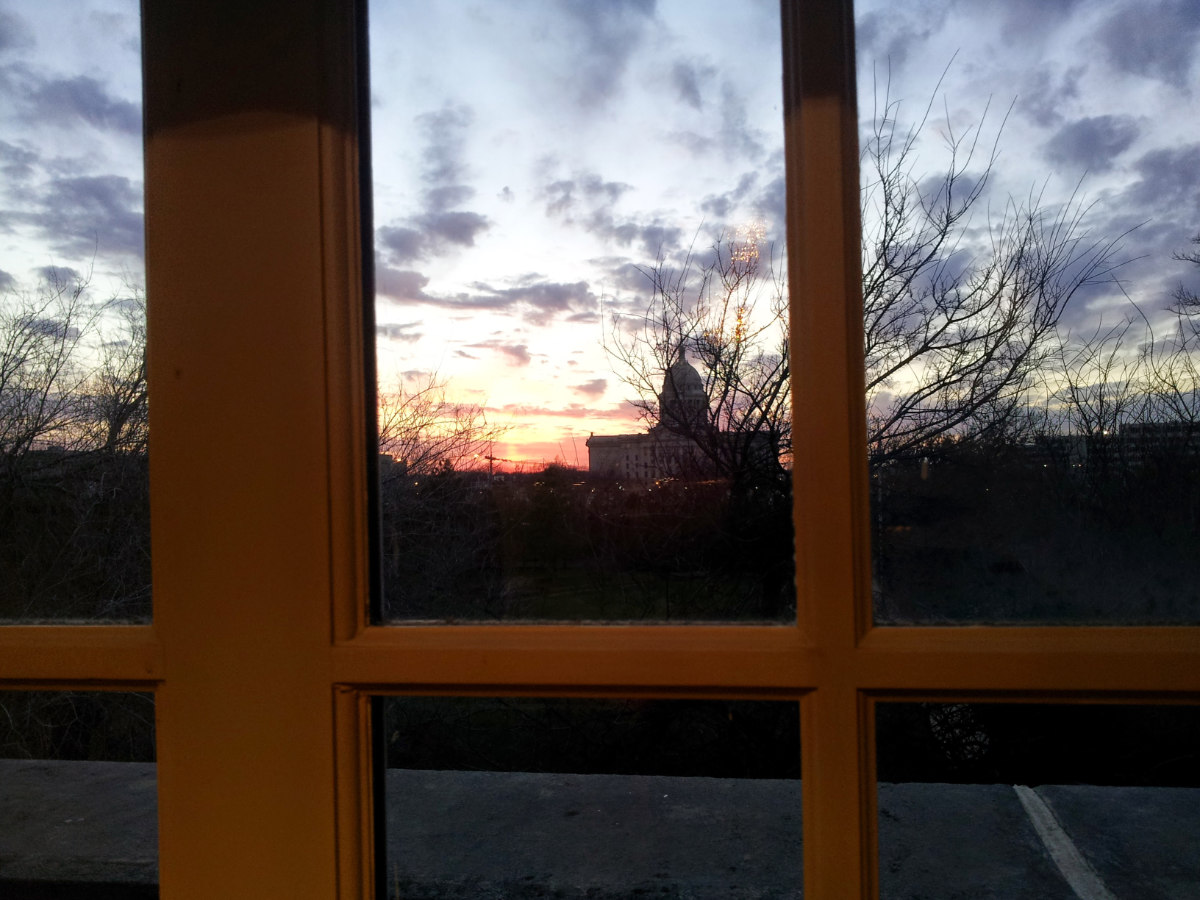 column
Governor Stitt, Repent With Us
As the American Abortion Holocaust continues unabated, it is time for a complete change of direction. Each one of us must personally repent of apathy and begin to take action. The church must repent of the false pietism that insists she must be separated from the world and keeps her from preserving with salt and leading with light. Officials must repent of following the flawed and false schemes of pro-life "leaders" and bowing down to the idol of SCOTUS with its immoral and unconstitutional opinions. Governor Kevin Stitt must repent of failing to uphold the rule of law, of waiting for permission to do his duty.
Upon taking office, Governor Stitt swore as follows: "I do solemnly swear that I will support the Constitution and the laws of the United States of America and the Constitution and the laws of the State of Oklahoma, and that I will faithfully discharge, according to the best of my ability, the duties of my office…"
On 8 May 2017 the Oklahoma House of Representatives passed Resolution 1004, authored by twenty of its members, recognizing that abortion is unconstitutional: "the Constitution of the United States mandates that no state shall deprive any human being of life, liberty, or the pursuit of happiness without due process of law, nor deny to any human being within its jurisdiction the equal protection of the laws." "THEREFORE," the House directs, "every public official in Oklahoma, including but not limited to…the Governor, is directed to exercise their authority as appropriate in their respective jurisdictions to stop the murder of innocent unborn children by abortion."
Governor Stitt's duty is to do everything in his power to protect the lives of those under his jurisdiction, including the preborn. Thus, his first duty is to stop the shedding of innocent blood. As chief executive, Governor Stitt needs no further authorization than his oath of office and our constitutions to direct the arrest of abortion practitioners and to blockade abortion death camps, thus saving thousands of lives.
Doctor Alan Keyes, former ambassador under President Ronald Reagan and three-time presidential candidate, believes it is time for governors in every state to uphold their oaths before God to enforce the Constitution and abolish abortion. In an interview with Oklahomans United for Life, Keyes said the time is right to "rethink our approach and go on the offensive. We can, in fact, abolish this evil." Keyes explains, "All law enforcement officers…are sworn to uphold the Constitution, according to its terms. They are therefore duty bound to hold the [Roe] decision in contempt and move without delay to end the wholesale atrocity it entails." Keyes has already met with the governors of Kentucky and Tennessee, and he plans to travel to Oklahoma this fall to seek a meeting with Governor Stitt and to speak at the Repent With Us conference in Del City on 2 November 2019.
Governor Kevin Stitt has sworn to uphold our constitutions, and he is the head of the executive branch, which functions independently of the legislative and judicial branches. He need not wait for any court's permission to halt the bloodshed of abortion in his jurisdiction, and the people of Oklahoma, through their elected representatives, have even directed him to do so.
If Governor Stitt were to take executive action, he could stop the bloodshed, and his leadership would, in all probability, inspire such actions across the union, saving hundreds of thousands of lives. In fact, many abolitionist leaders recognize this possibility and are directing their hope and efforts toward Oklahoma. On 2 November 2019 the Repent With Us conference will focus on practical actions that every Christian, from the layman to the governor, can take to hasten the abolition of abortion. Rusty Thomas, national Director of Operation Save America, formerly Operation Rescue, will address the need for personal repentance in our attitudes and actions toward abortion. Dan Fisher, former Oklahoma Representative and gubernatorial candidate, will discuss church repentance and examine the changes local congregations should make in their teaching and initiatives to help abolish abortion. Then John Eidsmoe, Senior Counsel at the Foundation for Moral Law, will present the historical precedent and legal imperative for official repentance through interposition. Governors must repent of inaction and waiting for permission to uphold the Constitution. Finally, Alan Keyes will explain why the Roe v. Wade opinion has utterly collapsed and must be ignored by governors. The conference will include other testimonies and corporate worship. Learn more at RepentWithUs.org.
It will not be easy for a governor to abolish abortion. Going "on the offensive" will draw massive pressure and attacks from radical liberals and even some misguided "pro-life" powerhouses in Washington, D.C., but we must be faithful and trust God for the results. When Christians across the country hear that Governor Stitt might lead the charge, they will rally to Oklahoma to help answer objections and prepare the way for success. Governor Stitt, just give us the word!
Please encourage Governor Stitt to use his executive power to stop the bloodshed. Ask him to lead the nation, right here in Oklahoma, and let him know that you will support him. Contact him at governor.ok.gov. Write a similar letter to the editor of your local newspaper. Ask your pastor and church congregation to follow your example.
Governor Stitt, we implore you to join us in this righteous cause. May God grant you the courage to execute your duty, and may Oklahoma become the tip of the spear in the battle to end America's abortion holocaust.
John Michener is the Director of Oklahomans United for Life (OUL). You can contact him at:
john.michener@alumni.oc.edu