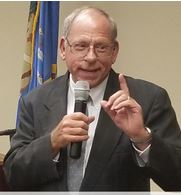 column
From the General Manager
While the USPS will have sufficient funds to maintain operations, do they have the ability to handle the additional ballots going through the mail this year? While Oklahoma has had absentee ballots for ages, it is true that there have been more requests than in any other previous election. This is most likely a result of concerns about COVID-19. In states with absentee ballots, only voters who apply for a absentee ballot are sent a ballot. This is much different from the states that are sending a ballot to every registered voter. It is important to note, that there are many on the voter rolls who are now deceased, or have moved and have not registered at their new address. Many may have even moved to another state. This raises concern about what happens to these ballots being sent to non-existent voters. I am sure this may become an issue following the election, depending on the results of the election. But, I digress.
Back to the question. The USPS delivers more than 433 million pieces of mail per day. Now, keep in mind that only in a few states will every single registered voter be sent an unsolicited ballot. But, if all American voters – approximately 158 million people – did receive a ballot and vote by mail, the total mail volume for both the ballot being sent and the returned ballot would be less than what the USPS handles on a typical day. Or, let's look at it another way. If your mailbox is like mine, you probably receive a bunch of mail each day. Another piece coming, and going back out in the weeks leading up to the election is not a big burden.
I also wish to explain another factor. Official election mail is the highest priority for the Post Office, both the ballots being sent by the election agency, and the ballots being returned by voters. In the case of the ballots being returned, they are in specially marked envelopes, and many states also use an unique color. The USPS gives priority to those more than any other type of mail. Concerning the outgoing mail from the election agency, those also have priority. When we mail out this newspaper, the postal form we fill out asks you to say yes or no to the statements: "This is Official Election Mail." or, "This is a Political Campaign Mailing." If either of those questions receive an affirmative answer, the mail is tagged for special handling. In summary, election mail will be delivered – even if it means delaying other mail.
Now let me emphasize this last point: official election mail, as well as candidate campaign mail, is a priority. So, what happens to other mail, such as our newspaper. Since, we do not qualify to answer yes to either of those questions, delivery of this publication may be delayed at election time. This did not give us concern until the election of 2004. Once we take this publication to the post office, it typically takes 3-5 days to reach your mailbox, depending on if it was mailed before or after the weekend, and your location.
Following publication of our Fall 2004 edition, we received a number of comments saying what a great edition it was and complimenting us for the election information it included. But, that was followed by the comment: "Unfortunately, we did not receive it until after the election." Conferring with postal authorities, we learned that there was a big slowdown in mail delivery at that time. We were told that there was such a backlog of mail, that they ran out of places to store it and they had to rent extra space to hold the overflow.
Beginning with the Fall 2006 election edition, we added a statement below the address label on the front page, directed to the "Postmaster," saying this was our "Election Edition," and to please deliver before the election. We cannot confirm if this has had any impact, but we have not had a repeat of the experience of 2004. However, we did notice that our summer edition this year took a day or two longer than normal.
With the emergence of early voting – this year early voting begins on Thursday, October 29, in Oklahoma – the time for delivery became further compressed. And, this year, the election is a few days earlier in November than is typical. As I write this, we plan to place this edition in the mail two weeks before the election. Hopefully, you will receive it about a week before the election. Most of the articles will be posted on our website about the same time the print edition is delivered. Please send me an email if you experienced delays in receiving this edition of the newspaper.
Ron McWhirter is one of the founders of the Oklahoma Constitution newspaper and serves as the General Manager. He may be contacted at the newspaper email: okconsti@aol.com