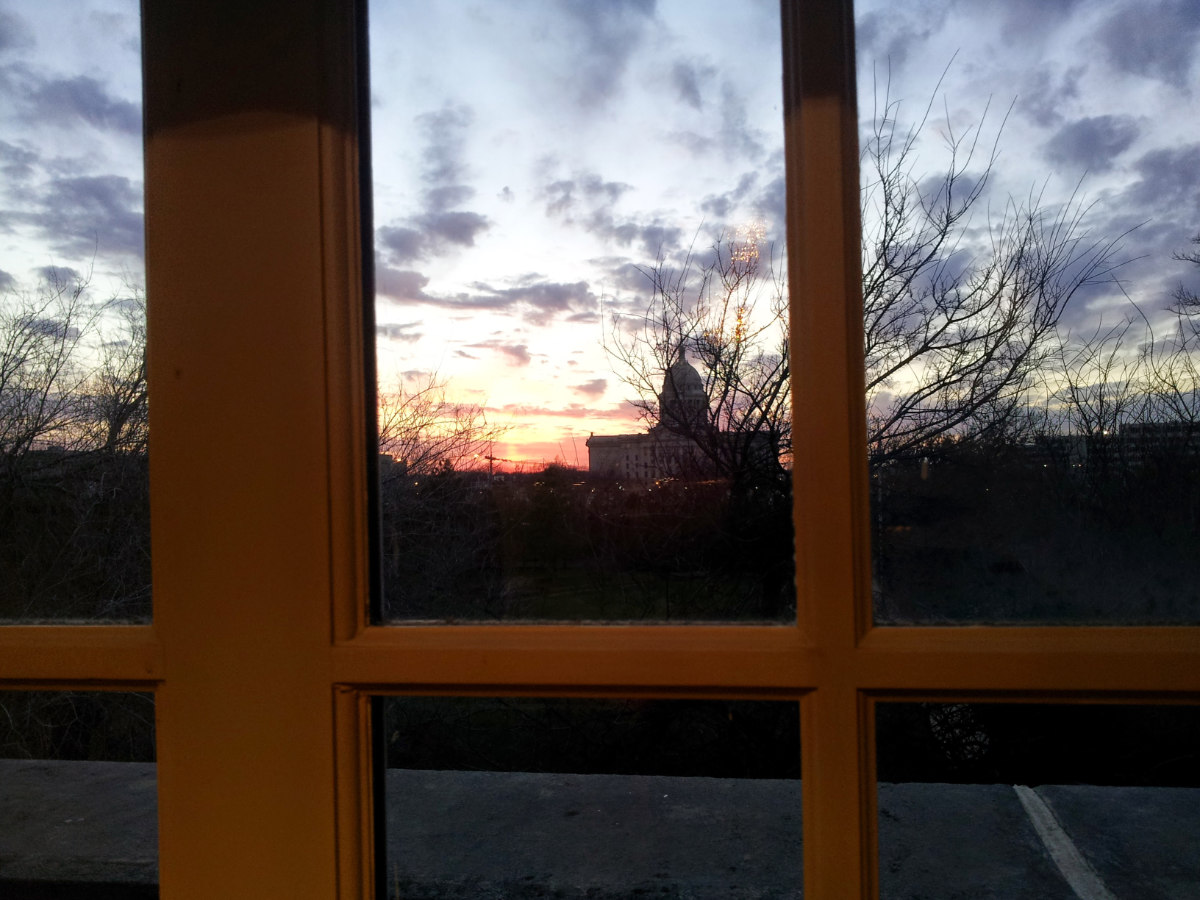 column
Judge Balkman Right in Not Ordering a Jury Trial In Opioid Case
By Bill Graves
The Oklahoma Constitution newspaper in its Fall, 2019 edition took Judge Thad Balkman to task for a ruling he made in a case involving the sale and distribution of opioids.
This writer is one who invariably agrees with the conservative stands taken by the Oklahoma Constitution newspaper. Their well thought-out positions on Oklahoma and national political and cultural issues are a bright light in Oklahoma journalism. Nevertheless, in this matter I do take issue, based on the law, as to their view of Judge Balkman's opioid ruling.
When I first read the Oklahoma Constitution's discussion of the opioid case, I essentially agreed with its assessment of Judge Balkman's ruling. However, upon studying the case law construing Oklahoma's Constitution, I have come to the conclusion that Judge Balkman was essentially correct.
As the Oklahoma Constitution newspaper correctly pointed out, the opioid case touched on issues of vital importance to Oklahoma citizens, i.e., the needed access to combat pain suffered by many people in regard to various ailments, drug addiction, the issue of nuisance and jury trials, etc.
Views of the Evidence
Everyone is entitled to their opinion about the evidence, but only Judge Balkman was the trier of fact. Only Judge Balkman sat through all of the trial over 8 weeks assessing the credibility of each witness, determining the admissibility and weight to be given to each document comprising the 800+ exhibits. Only Judge Balkman made dozens of pre-trial rulings on discovery, qualifications of expert witnesses and other dispositive motions. For the majority of these pre-trial motions, Judge Balkman held hearings in court and reviewed all of the briefs, including supporting documentation
In this Cleveland County Case Judge Balkman ruled that jury trials are not available under the Oklahoma Constitution or statutes in public nuisance cases and held that the case should be decided by the Court. The Judge correctly held that issue of public nuisance is an equity matter which in which no jury trial is available. Jury trials are available only in law cases.
Here, the Attorney General sought $17 billion for abatement of the alleged nuisance involving the sale and distribution of opioids in the State of Oklahoma. Judge Balkman, as the trier of fact, held that there was a public nuisance and awarded not $17 billion, but $465,026,711. for abatement of the nuisance. This is not to be considered damages as the Oklahoma Constitution newspaper stated, but costs for abatement.
Oklahoma law is clear. Abatement is an equitable remedy for which there is no right to trial by jury. State ex rel. Brown v. Armstrong, 1952 OK 70 11-12, 241 P.2d 959, 961 ("in an action by the State to abate a public nuisance, the defendant is not entitled to a jury trial. Balch v. State ex rel. Grigsby, Co. Atty, 65 Okla. 146, 164 P. 776. In Gragg v State ex rel. Selby, Co. Atty, 73 Okla. 132, 175 P. 201, the Court held that the proceeding was equitable in nature and that the parties were not entitled to a jury, either as a constitutional or statutory right, and the Court followed the holding in the Balch case."}
Defendants herein argued they are entitled to a jury trial in this case because, according to the Defendants, the State's requested remedy is not truly abatement, but is really a request for damages. Defendants argued that the State's abatement plan seeks damages because it requires Defendants' to spend money – i.e., requires Defendants to fund the actions and services the State's experts have testified are necessary to abate the opioid crisis in Oklahoma. Defendants argued that requiring them to fund such abatement made the case "an action for the recovery of money," which under 12 O.S. Sec. 556 entitles them to a trial by jury. This is incorrect.
The fact that the State proposed to abate this nuisance through actions requiring the expenditure of funds did not transform this into an action "for the recovery of money." First, the definition of a temporary – i.e., abatable – nuisance, is one that "can be abated by the expenditures of money or labor." See Oklahoma v. West, 1931 OK 693, 5-6, 7 P.2d 888, 890 ("We have repeatedly held such a nuisance to be temporary under the rule that where a nuisance can be abated by the expenditure of money or labor, it shall be considered temporary…Cases holding a nuisance to be only a emporary nuisance when it may be abated by the expenditure of money or labor are City of Ardmore v. Orr, 35 Okla. 305, 129 P. 867; City of Cushing v. High, 73s Okla. 151, 175 P. 229; A.T.& S.F. Ry. Co. v. Eldridge, 41 Okla. 463, 139 P. 254; St. L. & S.F.R. Co. v. Ramsey, 37 Okla. 448, 132 P. 478.") In other words, abatement – by definition – contemplates the expenditure of funds.
Second, the Oklahoma Supreme Court has been clear that, in those Instances when a party receives funding to accomplish abatement, an action seeking abatement is still one sounding in equity – where no right to a jury attaches. Specifically, in Town of Jennings v. Pappenfuss, the Supreme Court affirmed a trial court's decision ordering the defendant to "abate the nuisance and pay the cost." 1928 OK 61, 1, 263 P. 456, 457. And, in response to a challenge to certain jury instructions given below, the Supreme Court held "the whole matter to be an action in equity, the jury only acting in an advisory capacity, and the findings of fact and the judgment of the court and in nowise dependent upon the jury's verdict nor the instructions given. Id. at 6." That Pappenfuss was decided while 12 O.S. Sec. 556 was in full force and effect is further support for the conclusion that an action seeking abatement, regardless of whether abatement is to be accomplished by funds or labor, is an action in equity where no right to jury exists.
The following matters or issues have arisen as to this case which are now addressed:
Concern That Decision
"could have very serious ramifications."
While certainly this case was watched nationally because it was the first such case to go to trial, this case did not set a precedent outside of Oklahoma. This is because the case rested solely upon Oklahoma's nuisance statute found in title 51 Oklahoma Statutes Sections 1 and 2. Oklahoma's nuisance statute more broadly defines a nuisance than most other states. In most states, there must be some harm or damage done to real property. Oklahoma has no such requirement. Furthermore, in contrast to the thousands of deaths in Oklahoma, and hundreds of thousands of deaths nationwide caused by opioid addiction, there is no evidence whatsoever that gun, liquor or automobile manufacturers have caused an epidemic of human death.
That Ruling Will Add to the
Suffering of Chronic Pain Patients
There is no evidence Judge Balkman's decision "added to the suffering of many with chronic pain." The State did not seek to eliminate opioids as a tool for treating pain. To the contrary, the State and its experts agreed these drugs play an important role in medicine and should remain available for those patients who need them. The Oklahoma doctors who testified at trial stated they were already practicing greater restraint in prescribing opioids. Several witnesses at trial testified that there are many non-opioid alternatives that can be prescribed to treat pain. In fact, the judgment specifically found that "[p]ain prevention and non-opioid pain management therapies, including cognitive behavioral therapy for pain, physical therapy, and exercise programs are necessary to abate the nuisance" and awarded $103,277,835 for the cost of these services. (Final Judgment After Non-Jury Trial, p. 34, paragraphs19-21)
That J&J Later Agreed Public Nuisance Abatement
Is Equitable, No Right to Jury Trial in MDL.
Several weeks after the Oklahoma Constitution released its article, J&J adopted, in another case, Judge Balkman's position as to jury trials not being available in a public nuisance case.
Lawful Conduct Argument -
J&J Did More than Just Sell a Legal Product;
False and Misleading Marketing.
Contrary to Defendants' arguments at trial, the application of Oklahoma's specific public nuisance law to this crisis under the specific facts applicable to Oklahoma is not an expansion of the law. Oklahoma has a long and unbroken line of cases saying that an ostensibly lawful business becomes an actionable nuisance when it infringes on the health, safety and rights of others.
Plaintiffs asked for $17 Billion for abatement costs. Nevertheless, Judge Balkman denied this claim and awarded only $465,026,711. This writer, a former District Judge for 12 years did not hear the evidence as Judge Balkman did. Without hearing the evidence, there must be a presumption that he was correct in his ruling in the Opioid case until and only until he is reversed on appeal. Knowing Judge Balkman as I do, his decision, after considering all the evidence, was well-thought out and consistent with the facts and the law.
Bill Graves is a lawyer, former State Legislator and former District Court Judge.