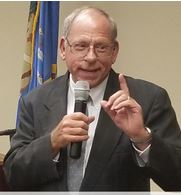 column
Who is Roy G. Biv?
As I write this, but they may have taken it down from their website in the meantime, the OU Health Services website said: "At OU Health, you'll gain access to a Health Equality Coordinator who helps you navigate and coordinate services as a lesbian, gay, bisexual or transgender person seeking gender-affirming care." The hospital's website states that it offers gender-related services to minors under its Roy G. Biv Program, including "pausing puberty to further explore gender," hormone therapy, and assistance finding surgeons willing to perform gender-altering surgery on minors. Oklahoma Children's Hospital is the "only interdisciplinary clinic in the state that provides gender-affirming care to patients under the age of 16 years," so says the website. Additionally, it proclaims that it is "designated an LGBTQ Healthcare Equality Leader by the Human Rights Campaign Foundation."
When Oklahoma lawmakers met in Special Session at the end of September to distribute more than $108 million in federal pandemic relief funds to OU Health Services, many expected a routine vote in favor of upgrading its medical records and a cancer-treatment center. But, as its Roy G. Biv Program made the news, Republican lawmakers added a provision that OU would not get those funds, including $39.4 million for a new pediatric mental health facility, unless its Oklahoma Children's Hospital stopped providing gender-affirming care. The bill's final version prevents OU Health from using any of the funds that the hospital's new mental and behavioral health facility is set to receive from the American Rescue Plan Act (ARPA) "or the benefit of any facility owned by the University Hospitals Authority or University Hospitals Trust performing `gender reassignment medical treatment' , on children under eighteen (18) years of age." After a lengthy contentious debate, SB 3XX passed 31-13 in the Senate and 67-24 in the House.
OU tried to get ahead of the controversy saying, "The OU Health Senior Leadership team is proactively planning the ceasing of certain gender medicine services across our facilities and that plan is already under development." Governor Stitt said the language in the bill does not go far enough and called for action next legislative session to ban permanent gender transition surgeries and hormone therapies on minors statewide. "By signing this bill today we are taking the first step to protect children from permanent gender transition surgeries and therapies. It is wildly inappropriate for taxpayer dollars to be used for condoning, promoting, or performing these types of controversial procedures on healthy children," said Governor Stitt. He continued: "I am calling for the Legislature to ban all irreversible gender transition surgeries and hormone therapies on minors when they convene next session in February 2023. We cannot turn a blind eye to what's happening all across our nation, and as governor I will not allow life-altering transition surgeries on minor children in the state of Oklahoma."
Two Oklahoma legislators were ahead of the game in attempting to block gender-affirming medical services to minors. Both submitted bills in previous legislative sessions. State Rep. Tom Gann (R-Inola) and Sen. Warren Hamilton (R-McCurtain) both made our "Top Conservative Legislators" list based upon their scores on the 2022 Oklahoma Conservative Index rating state legislators – Rep. Gann scored a perfect 100 percent, and Sen. Hamilton scored 90 percent.
Rep. Gann filed House Bill 3240 in the 2022 legislative session. The legislation would have created the "Oklahoma Save Adolescents from Experimentation (SAFE) Act." The bill would have made it illegal for any physician or other healthcare professional to "provide gender transition procedures to any individual under eighteen (18) years of age" or refer a youth to another physician for those treatments and procedures. The bill would have also barred the use of state funding for those purposes. HB 3240 did not receive a hearing in the Legislature.
Sen. Hamilton filed Senate Bill 676 in the 2021 legislative session. The legislation would have prohibited anyone under the age of 21 from undergoing gender reassignment medical treatment in the state. In addition to making it illegal for a person younger than 21 to undergo gender reassignment medical treatment, Hamilton's legislation would also make it illegal for a parent or guardian of a child under the age of 18 to obtain gender reassignment medical treatment for the child. And, it would also be illegal for a healthcare professional to intentionally perform gender reassignment medical treatment on a person who is under the age of 21. His bill did not receive a hearing. He will be reintroducing the bill for the next legislative session.
With the horse already out of the barn in Oklahoma, the need for such legislation cannot be overemphasized. In fact, here is a new consideration. Planned Parenthood is now offering gender-affirming care at many of its facilities. With legislation ending the abortion business in many states, Planned Parenthood is apparently getting into the gender-affirming care business to help take up the slack. So, it is critical that legislative leaders stop blocking such legislation and allow the bills to be heard.
As attention became focused on the Roy G. Biv Program at OU, interesting information came to light. Typically, a facility or program with a name, such as Roy G. Biv, is named in the honor of an important person, often a large donor. Some wondered, "Who is Roy G. Biv?" It turns out that the program is not named for a person, as Roy G. Biv does not exist. An internet search for Roy G. Biv reveals that it is an acronym for the colors in the rainbow symbol commonly associated with LGBTQ Pride Events. ROYGBIV is an acronym for the sequence of color hues commonly described as making up a rainbow: red, orange, yellow, green, blue, indigo, and violet. There are several mnemonics that have been used for remembering this color sequence, such as the name "Roy G. Biv" or sentences such as "Richard of York Gave Battle in Vain." It is now being used as a written form for the often seen rainbow symbol which has been adopted by the LGBTQ community.
Countries such as Sweden and Finland, with years of experience with gender-affirming care for minors, are now abandoning such services with the finding of long-term ill effects. A growing number of lawmakers view gender-affirming care as medically unsound for youths, and call it a form of child abuse. It is time to push back against hormonal and surgical treatment in children in Oklahoma and block such gender-affirming services.
Ron McWhirter is one of the founders of the Oklahoma Constitution newspaper and serves as the General Manager. He may be contacted at the newspaper email: okconsti@aol.com