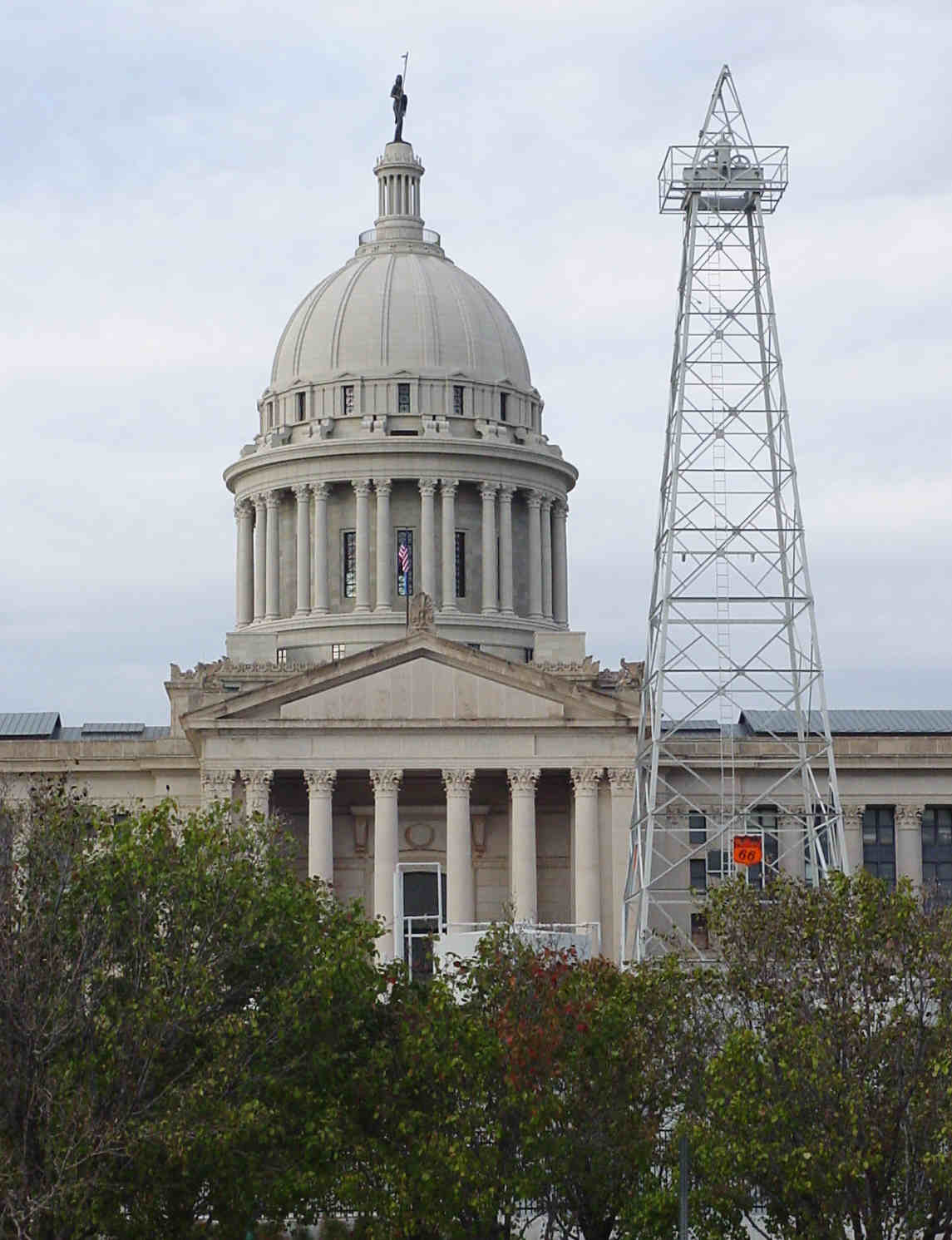 tidbits
Tidbits for Spring 2021
$9.6 Billion for State Appropriations
On February 16, the Board of Equalization, chaired by Gov. Kevin Stitt, voted to approve $9,640,475,940 in revenue to be appropriated by the Legislature for Fiscal Year 2022, an increase of $1,807,310,758 over appropriated expenditures for FY 2021. "Other states are waking up to the reality of huge budget deficits, but Oklahoma's economy is strong thanks to the balanced approach we took to address the pandemic and the Legislature's wise decision not to spend all of the authorized amount last year," said Gov. Stitt. "Keeping businesses open and getting COVID vaccines out quickly and efficiently has proven critical to keeping our head above water. Moving forward, my top budget priorities for FY 2022 are to deliver taxpayers more for their money and to invest in our fellow Oklahomans to fully unlock our full economic potential."
The estimate includes $1.7 billion in one-time cash or non-recurring revenue. Gov. Stitt believes the State of Oklahoma should use the non-recurring revenue to significantly replenish its savings account to be prepared for any future downturns and strategically invest in infrastructure projects to help grow the economy. They also voted at the meeting to approve a Constitutional limit on appropriations for FY 2022 of $7,908,933,430 which restricts expenditures from certified funds and cash.
March 2021 GRF Collections
State General Revenue Fund (GRF) collections in March totaled $489.3 million, which is $16.4 million, or 3.5%, above the monthly estimate. This was only $5.3 million, or 1.1%, below collections in March of 2020. Total GRF collections through the first nine months of fiscal year 2021 are $4.8 billion, which is $27.5 million, or 0.6%, above the estimate, and $94.1 million, or 2%, above prior year collections for the same period. March tax and fee revenue collections exceeded estimates by 3.5% and were bolstered primarily by income taxes and natural gas tax collections. Year-to-date collections continue to track just above estimates at 0.6%. Sales tax and oil tax collections remain weak categories with sales tax falling below estimates for the last five months and oil collections missing estimates for all months in the fiscal year. "Oklahoma continues to exceed year-to-date collection estimates. As life starts to return to normal, post-pandemic, we hope to see this economic momentum continue forward," said OMES Executive Director Steven Harpe. "These financial indicators show us Oklahoma's recovery plan is on track and making great strides."
Miss USA Pageant Coming to Tulsa
On April 20, the Muscogee (Creek) Nation announced that its River Spirit Casino Resort will be hosting the Miss USA and Miss Teen USA competitions in Tulsa this fall. The pageant will be held November 26-29, 2021, in the Paradise Cove Theater. Over 100 contestants are expected travel to Oklahoma from each state to compete for the title of Miss USA and Miss Teen USA. Miss USA Organization President Crystle Stewart called it a "state of the art entertainment center that rivals any of the centers I have been to around the world, not just in the Nation." Stewart won the Miss USA 2008 title and has been a part of the organization since that time. "At the Muscogee (Creek) Nation, we anticipated that if we built River Spirit Casino Resort to the highest caliber possible, prominent events such as the Miss USA Organization would be attracted to River Spirit," Principal Chief David Hill said. "Today's announcement is a testament to those ambitious efforts and our ability to compete in the national arena for high-profile events." Tulsa Mayor G.T. Bynum commended the Muscogee (Creek) Nation for being a "tremendous driving force" in the local economy. More than 3,000 visitors are also expected.
Cherokee's Spend Millions in Wake of McGirt Decision
In order to handle the criminal case load as a result of the U.S. Supreme Court's McGirt v. Oklahoma decision, the Cherokee Nation has spent $10 million to upgrade its justice system. While McGirt only directly affected the Muscogee (Creek) Nation, the Oklahoma Court of Criminal Appeals recently handed down several decisions which applied McGirt to the Cherokee, Seminole, Choctaw and Chickasaw Nations. The Cherokees are trying to deal with the hundreds of cases that are leaving the state of Oklahoma's criminal justice system and entering either the federal system or the tribal system. Cherokee Nation Attorney General Sara Hill says some cases might not get retried in the federal or tribal courts because of how long ago they occurred.
Lawsuit Against President Biden Over Keystone Pipeline
On March 17, Oklahoma Attorney General Mike Hunter joined a lawsuit against President Joe Biden and members of his administration over their move to shut down the Keystone Pipeline. Filed in the United States District Court for the Southern District of Texas, the complaint aims to prevent the Biden administration from circumventing limits placed on the presidency by the Constitution, the Administrative Procedure Act and congressionally enacted national policy in what the lawsuit calls a critical energy matter. Oklahoma joined 20 other state attorneys general in filing the lawsuit.
Attorney General Hunter said President Biden's executive action halting the pipeline is unlawful and does nothing but harm Americans. "The president doesn't have the constitutional authority to unilaterally block this project," Attorney General Hunter said. "It is up to Congress to approve the project, which they have done already. Further, the argument that transporting crude oil via pipeline is worse for the environment than by rail or shipment is preposterous and has been disproven numerous times, even by the Obama-Biden State Department. The Keystone Pipeline also will move the United States closer to energy independence. This will help Oklahomans and Americans by keeping costs for products and fuel down. As a fourth generation Oklahoman who has worked in the industry, I know how critical it is to our state. That is why I will do everything I can to ensure our energy sector is protected from federal overreach."
Federal Takeover of Oklahoma Mining and Reclamation
On April 16, Attorney General Mike Hunter sharply rebuked the U.S. Interior Department's Office of Surface Mining Reclamation and Enforcement for its attempted takeover of regulating coal mining and reclamation activities on land in Oklahoma subject to the McGirt decision. The response comes after the agency's deputy director, Glenda Owens, sent letters to the Oklahoma Conservation Commission and the state Secretary of Energy and Environment saying the U.S. Supreme Court ruling in McGirt v. Oklahoma stripped the state of authority to regulate surface coal mining and reclamation operations on lands now considered the Muscogee (Creek) Reservation. The agency demanded that Oklahoma officials surrender their authority and records to federal officials within 30 days.
Attorney General Hunter said the Interior Department is ignoring relevant law. "I am advising that no state agency comply with this ill-advised power grab by the Biden administration," Attorney General Hunter said. "Courts ruled a long time ago that reservation lands are not categorically exempt from state jurisdiction for all purposes. The McGirt ruling was about criminal jurisdiction, not all state regulations of industries. Further, we have supervised mines and reclamation operations in Oklahoma for decades and there is no legal basis for us to stop this practice now." The letter says only Congress has the authority to change the regulatory authority on reservation lands from the state to the federal government. Even then, Congress faces limits in repealing a state's civil jurisdiction over non-Native Americans on reservation land. The attorney general continues, the Interior Department is relying on false assumptions that states lack civil jurisdiction over reservation lands without federal approval.
AG Hunter Urges Leaders to Oppose Court Packing
On April 22, Oklahoma Attorney General Mike Hunter joined in a letter to President Joe Biden and congressional leaders explaining that the proposal to pack the U.S. Supreme Court undermines the constitutional system, public confidence in the courts and the rule of law. Court packing is the practice of changing the composition of judges on a specific court by increasing the number of seats, thus tipping the balance of power toward one political party. Recently, President Biden formed a commission to study expanding the current nine-member bench of the U.S. Supreme Court. Additionally, congressional Democrats have filed legislation that would add four new justices to the court. "Given the filing of the bill six days after the president announced his executive order regarding the Supreme Court, it is clear that the Commission on the Supreme Court is nothing but a coordinated attempt to justify a naked political power grab by the leaders of Congress and the president," the letter reads.
Attorney General Hunter said the effort to expand the court will be met with strong opposition. "Attempting to pack the court is a complete abuse of power that is destined to fail," Attorney General Hunter said. "The framers of the Constitution specifically made the judiciary independent to avoid judicial abuses by a tyrannical government, like the one they fled. Even famous liberal icons like Justice Ruth Bader Ginsburg and Justice Stephen Breyer have condemned the notion of adding seats to the court. My attorneys general colleagues and I will do whatever it takes to fight this radical idea."
The letter, signed by a coalition of 20 attorneys general, says the last failed attempt at court packing was 80 years ago. Since that time, presidents and Congress have respected the independence of the judiciary and the Supreme Court as the bulwark protecting Americans' liberties. It has been over 150 years since the court composition was altered. "The Justices of the Supreme Court have repeatedly shown their independence, despite their differences and the labels some have put on them," the letter continues. "When elected officials do not like the outcome in a case, that is not a sign of the politicization of the Court, but of the system working."
Federal Funds for Nonpublic Schools
On April 20, State Superintendent of Public Instruction Joy Hofmeister announced that Emergency Assistance to Nonpublic Schools (EANS) is now available to 56 Oklahoma schools. The EANS program was authorized by Congress in December 2020 under the Coronavirus Response and Relief Supplemental Appropriations Act (CRSSA). "The pandemic caused major disruption to all students in our state, including those who attend private schools," said Hofmeister. "The services and assistance these schools will receive through the EANS program will help students gain back what's been lost over the past year." Oklahoma's allocation for the EANS program is $30,986,191.
The Oklahoma State Department of Education (OSDE) determined eligible nonpublic schools based on the number of students enrolled as of Oct. 1, 2019. The amount of EANS funds each nonpublic school has for services or assistance is based on the number and percentage of low-income students and those schools determined to be most impacted by the COVID-19 pandemic. EANS dollars are intended to prevent, prepare for and respond to the challenges of the COVID-19 pandemic. The types of services EANS funds can be used for include cleaning supplies, ventilation system improvements, training for staff, technology to help students and teachers with remote or hybrid learning, and the reimbursement of certain expenses incurred since March 13, 2020.
Okahoma Teacher Shortage
Oklahoma has made gains in recruiting and retaining PK-12 teachers in its workforce. The number of teachers for the 2020-21 school year is 2% higher than in 2012-13. However, the pandemic has dealt a blow to that progress. Oklahoma lost about 600 teachers since last school year, the largest year-over-year drop since 2016-17. To help address the teacher shortage, the Oklahoma State Department of Education has partnered with the national nonprofit TEACH to launch a new Public Service Announcement that celebrates current teachers and inspires others to become teachers. "The Future Depends on Teachers" was developed to elevate the teaching profession and address the teacher shortage. "We must spotlight our educators and provide more opportunities for talented individuals to join the noblest profession," said State Superintendent of Public Instruction Joy Hofmeister. "Despite the challenges that teaching in the time of COVID-19 has thrust upon them, teachers are innovating and rising to meet this new reality head-on."
COVID-19 Vaccinations Won't Affect Life Insurance
Oklahoma Insurance Commissioner Glen Mulready confirmed on March 18 that COVID-19 vaccinations won't affect a policyholder's life insurance benefits. He also urged Oklahoma consumers to be cautious about social media misinformation regarding COVID-19 vaccinations. Social media posts have falsely indicated that getting a COVID-19 vaccine could threaten life insurance coverage claiming the vaccines are experimental and not tested for safety. "This is simply not true," said Commissioner Mulready. "Whether it's Pfizer, Moderna or Johnson & Johnson, these vaccines received Emergency Use Authorizations after the Food and Drug Administration determined their safety and efficacy. I assure you that getting a COVID-19 vaccine will not impact your life insurance benefits." Tyler Laughlin, Regional Vice President of the American Council of Life Insurers, agreed with Mulready. "Life insurance policies are very clear on what might cause your insurer to deny a benefit," said Laughlin. "Policyholders should rest assured that nothing has changed in the claims-paying process as a result of COVID-19 vaccinations." Commissioner Mulready encourages Oklahomans to contact their insurer if they have any questions or concerns about the details of their life insurance policies.
OCPA's Citizenship Award Dinner
The Oklahoma Council of Public Affairs (OCPA) held its annual Citizenship Award Dinner on April 28 at the National Cowboy and Western Heritage Museum in Oklahoma City. The keynote speaker, Jason Whitlock, was banned by Twitter earlier in the month. Whitlock called-out Black Lives Matter (BLM) co-founder and self-proclaimed Marxist, Patrisse Cullors, for buying a $1.4 million house in a nearly all-white neighborhood. As a result, Twitter locked his account. "BLM is one of Big Tech's sacred cows. I've been harping on the fraudulence and the financial grift of BLM for years. I think Twitter has been looking for an excuse to de-platform me." OCPA's 2021 Citizenship Award recipient was former United States Education Secretary Betsy DeVos. Sec. DeVos stood as the valiant school choice champion for four years and supported former President Trump in making it a litmus test for one of the two major political parties.
Lankford to be Challenged in GOP primary
A 29-year-old pastor from Tulsa confirmed on March 9 that he plans to mount a Republican primary challenge to U.S. Sen. James Lankford in 2022. Jackson Lahmeyer, pastor of the Sheridan Christian Center, said former President Donald Trump's former national security advisor Michael Flynn has endorsed his candidacy. Flynn, who was wrongly forced into pleading guilty to lying to the FBI, was later pardoned by President Trump. Lahmeyer has been critical of Senator Lankford for Lankford's lack of support for Trump. Lankford was among more than a dozen senators who initially objected to the certification of 2020 election results, but changed his mind after insurrectionists entered the U.S. Capitol. Lahmeyer had a booth at the 2021 Republican State Convention on April 10 where he campaigned to the GOP delegates.
Ten Digit Phone Dialing
On April 24, 10-digit dialing for local 405 phone calls (405 + local number) becomes mandatory, ending the period when local calls could be completed either with only 7 digits. Businesses and residents who have not yet prepared for 10-digit dialing of local calls within the 405 area code should do so now according to the Oklahoma Corporation Commission. The move to 10-digit dialing for local 405 area code calls is necessary to enable the addition of another area code for the area currently served by only 405. The new, additional area code (572) is needed to ensure there will be enough telephone numbers available for the area. Existing phone numbers will not change, and what is currently a local call will remain a local call. Residents and businesses should check all devices that may use telephone numbers including such things as security systems, office telecommunication systems, certain inventory systems, etc. and make sure the systems are set up for 10-digit dialing for local 405 area code calls.
Death of Former State Senator Horner
Former Oklahoma State Senator Maxine Horner (D-Tulsa) died unexpectedly in her home on February 7. She was 88. Senator Horner held the District 11 seat from 1986 until she was term-limited in 2004. She was one of the first two Black women to serve in the Oklahoma Senate, and was the Senate author of the groundbreaking commission created in 1997 to study the Tulsa Race Massacre of 1921. During the 18 years she served in the Legislature she earned a 7% cumulative average on the Oklahoma Conservative Index.