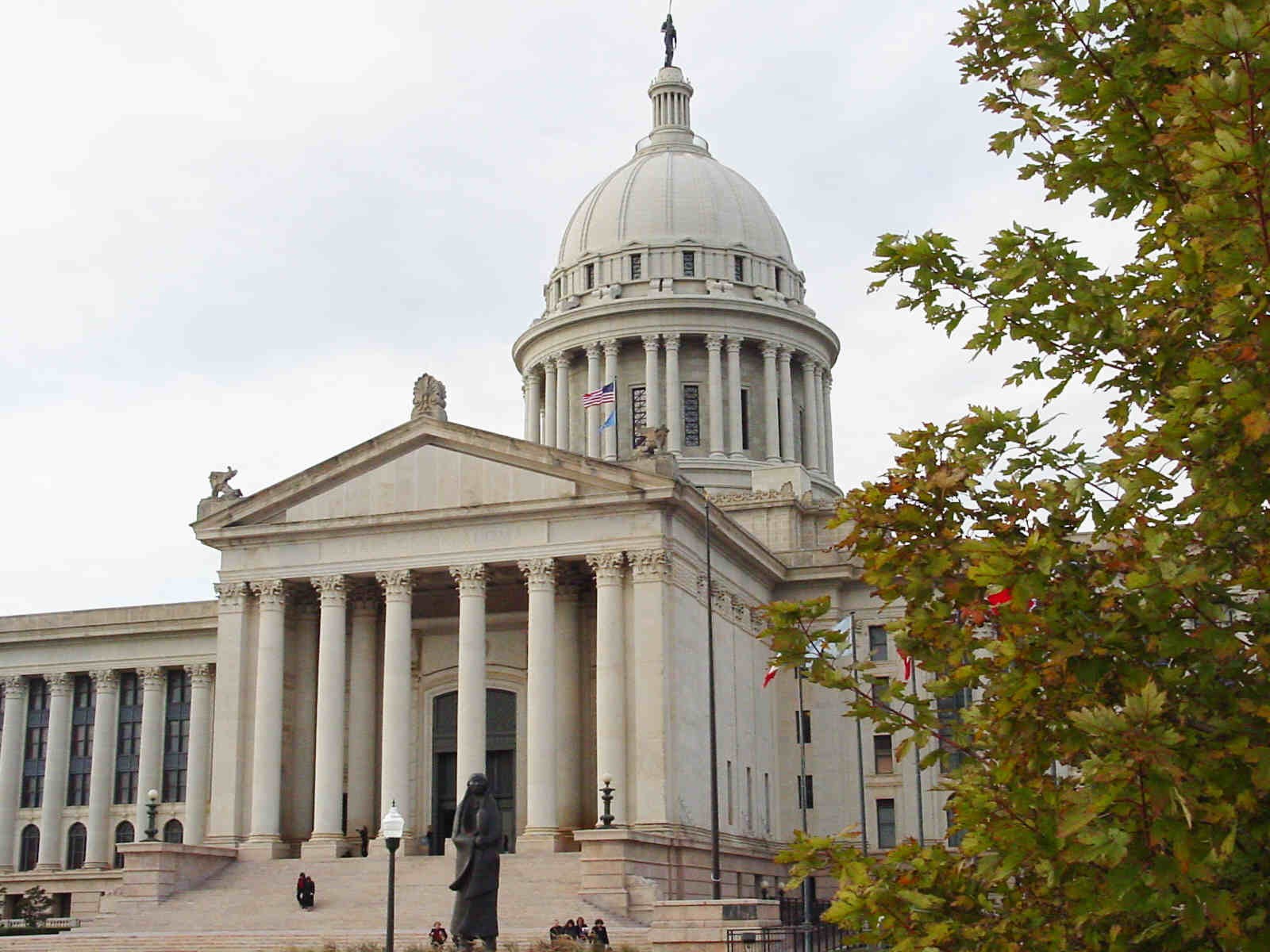 news
Legislators File Bills for 2021 Session
Protecting Citizens' Rights During Pandemic
State Senator Nathan Dahm (R-Broken Arrow) filed three bills to restrain the power of government in its response to the Chinese Coronavirus. "We've seen mayors, city councilors and government bureaucrats across this state issue edicts and dictates infringing on the rights of the people. The bills I'm introducing are aimed at protecting people's rights, and I look forward to the legislature joining me in passing these much-needed protections." Dahm said.
Senate Bill 224 would preempt cities and counties to prohibit them from issuing any current or future mandates forcing the wearing of masks on public or private property. "If business owners or private property owners want to require masks on their own property, that is a choice they can make," Dahm said. "However, government forcing private property owners to comply under threat of penalty is beyond their delegated powers."
Senate Bill 223 would prohibit the state of Oklahoma, as well as any political subdivision, from forcing citizens to take any immunization, including the COVID-19 vaccine. It would also prohibit the state from requiring a vaccine to receive any government services or rights protected by the Constitution. "We've heard suggestions from government bureaucrats that they intend to force or require the COVID-19-vaccine in order to travel, attend school, and similar requirements," Dahm said. "Our rights are not contingent upon vaccination status, and whether or not to take the vaccine should be up to each individual – not forced or coerced by the government."
Senate Bill 255 would address concerns with contact tracing to ensure it is done in a voluntary manner and protects people's private data, so it is not used or tracked without permission or a warrant. "Our Founding Fathers enshrined in our Constitution the right of the people to be secure in their persons, papers and effects," Dahm said. "That right doesn't stop during emergency situations and must always be protected."
Religious Freedom in Pandemic
State Sen. George Burns (R-Pollard) has filed a bill that would modify the Oklahoma Religious Freedom Act to ensure government entities cannot close churches, religious institutions or houses of worship. The measure is a response to the closure of churches and houses of worship across the nation during the COVID-19 pandemic.
Senate Bill 216 would add that the closure of a religious institution, or the declaration of a religious institution as "non-essential," would be deemed a substantial burden on the free exercise of religion. The legislation also states that a government entity cannot restrict access to religious facilities or gatherings as long as the institution is not engaged in illegal activities. "Many churches across the nation were forced to close their doors due to government overreach during the COVID-19 pandemic," Burns said. "During a health emergency, it's absolutely important to take precautions and do all we can to ensure we keep ourselves and others safe, but it's ridiculous to think that the government could close churches by labeling them as `non-essential,' while other businesses, such as casinos, may remain open." While churches in Oklahoma were not forced to completely close last spring, many shut their doors after social gatherings of 10 or more people were prohibited, making it nearly impossible to hold in-person worship. Fifteen states across the nation have exempted religious gatherings from their COVID-19 restrictions.
Social Media Censorship
State Sen. Rob Standridge (R-Norman) has filed legislation to give Oklahomans civil recourse when social media platforms unfairly target posts or accounts for their political or religious speech. Standridge said Senate Bill 383 is aimed at ensuring such speech is treated fairly. "I've had constituents tell me they've had their social media posts censored for reasons that are strictly political, aimed at shutting down conservative views," Standridge said. "I think when that's the case, those citizens should be able to take action against those companies." Under SB 383, the owner or operator of a social media website that contracts with users in the state could be sued if the social media website purposely deletes or censors a social media website user's political or religious speech, or uses an algorithm to suppress such speech. Users would be able to seek damages of a minimum of $75,000 per intentional deletion or censoring of that user's speech, along with actual damages and punitive damages if aggravating factors are present. The prevailing party may also be awarded costs and reasonable attorney fees. The bill would not apply to calls for immediate acts of violence or posts that entice criminal conduct or were the result of an operational error. It would also exempt posts that came from an inauthentic source or involved false impersonation or involved minors bullying minors. The website would not be liable under the bill for an individual user's censoring of the speech of another user.
Computer Data Privacy Act
The Oklahoma Computer Data Privacy Act would require internet technology companies to obtain explicit permission to collect and sell personal data. House Bill 1602 has bipartisan support and is authored by Rep. Josh West (R-Grove), and Rep. Collin Walke (D-Oklahoma City). "For far too long, we have pretended the data that technology companies collect from us is harmless," said West. "Over the past several years, we have seen how our data can be used by tech companies to manipulate ourselves and others. That doesn't even take into consideration the fact that these companies are free to sell our information to whomever they choose. I believe in the beneficial uses of technology and that there are many positive aspects to our interconnected networks. But we must realize that when the services are free, we become the product." The legislation would be one of the first "opt-in" data privacy bills in the country. "I echo Rep. West's concerns," said Walke. "Historically, Americans have had concerns about the extent of surveillance by the government, which is why we have the 4th Amendment. However, since the development of the internet, we have been willingly providing much more intimate information to tech companies whose sole motive is profit. The fruits of data harvesting and data manipulation are now plainly visible and lead only toward a dystopian future in which nothing we say or do is private. Our bill will ensure that tech companies only receive data that we explicitly consent to them having and allows individuals to protect that right through private causes of action."
Election Integrity Bills
State Sen. Nathan Dahm (R-Broken Arrow) filed a series of election integrity bills to further strengthen and secure the state's election systems.
Senate Bill 30 would prohibit any members of the Electoral College in the state from casting a ballot for any candidate for President or Vice President if either candidate does not meet the qualifications of a natural born citizen as required by the Constitution.
Senate Bill 32, authored by Sen. David Bullard (R-Durant) and co-authored by Dahm, would prohibit the implementation of any national popular vote system to be used for the Electoral College to cast their votes for the State of Oklahoma. "Without the electoral college, Oklahoma has no voice in presidential elections," Bullard said. "Currently, our electors must do what the people of Oklahoma say on election night. In this recent election, every county voted red. If this is changed to follow the national popular, we would have to certify electors for the candidate which did not get a single county. This law protects Oklahoma and Oklahomans from losing their voice."
Senate Bill 33 would refocus the Electoral College in Oklahoma by requiring the legislature to select future electors unless Congress passes election integrity bills, including national voter ID laws.
Senate Bill 34 would require the Secretary of the State Election Board to complete an audit of random election results to verify the paper ballots cast in the audited election match the electronic election results tabulated and tallied by the electronic election machines. This would apply to school board elections in February, municipal elections in April, primary elections in June, run-off elections in August and the general election in November.
Voter Registration and Participation
State Sen. Julia Kirt (D-Oklahoma City) filed a trio of bills designed to boost voter registration and participation in the state.
Senate Bill 103 would allow absentee voters who are unable to vote in person because of a physical incapacity, or their designee, to hand-deliver their sealed ballot to their county election board. Currently, absentee ballots for these groups can only be accepted via mail. Under the measure, hand-delivered ballots would still be due by the end of business hours the day before Election Day.
Senate Bill 205 would implement a process for automatic voter registration when an eligible voter gets a state driver's license or ID, building on the partnership of the State Election Board and the for verifying individuals. The measure would direct the Department of Public Safety (DPS) to provide electronic records of each person who is a qualified voter, or who will be a qualified voter within the next two years. The records would be forwarded to the applicable county election board in which the person may be registered or pre-registered to vote. Citizens could opt out if they did not want to register. "According to the National Conference of State Legislatures, 20 other states already automatically register voters," Kirt said.
The final bill, Senate Bill 77, would require the State Election Board to establish a website to allow Oklahomans to register to vote online by Dec. 31, 2021. Kirt ran the measure during the 2020 legislative session, but it was put on hold due to the COVID-19 pandemic and shortened legislative session. "Legislation passed in 2015 that authorized an online voter registration. However, the bill did not include a deadline for the website to be developed. Nearly six years later, this system is still not up and running," Kirt said. "Oklahoma is being left in the dust – at least 37 other states have an online voter registration system. Requiring people to register in-person is archaic in today's society that is fueled by secure, web-based technology."
Bill to Increase Minimum Wage
Sen. George Young (D-Oklahoma City) filed Senate Bill 161 to increase Oklahoman's minimum wage.
Senate Bill 161 would require employers to pay their employees a minimum wage of $10.50 per hour, or match the federal minimum wage rate, whichever is greater. Oklahoma's current minimum wage is $7.25 per hour, which is equal to the federal minimum wage. The last change to Oklahoma's minimum wage schedule was in 2008 when the rate increased from $6.55 an hour. Twenty-nine states have a minimum wage requirement higher than the federal minimum, according to data from the National Conference of State Legislatures. While Texas and Kansas match Oklahoma's $7.25 an hour minimum wage, Missouri's minimum wage rate is $9.45 per hour and Arkansas' minimum wage rate is $10 per hour. Numerous economic studies show that increasing the minimum wage increases unemployment and denies teenagers and other entry level workers opportunities for job experience and advancement by pricing them out of the market.
School Choice
State Sen. Rob Standridge (R-Norman) has filed legislation aimed at providing greater educational choice for families dealing with bullying and health issues, particularly during the pandemic. "The physical and mental health of Oklahoma students is the focus of each of these bills. While families with greater resources have options, others do not," Standridge said. "These bills are an attempt to give more choice to families whose children are at risk due to health concerns or as a result of bullying."
Senate Bill 221 creates the Wellness Scholarship Program Act, which would provide scholarships to attend a private school of choice for parents who have health-related concerns. Beginning in the 2022-23 school year, the scholarship would be awarded to a student if their parent or legal guardian is concerned the child is in danger of contracting an infection, including, but not limited to COVID-19, or if they are concerned the student could pose a risk of exposing school employees to an infection.
Senate Bill 222 creates the Hope Scholarship Program Act, providing scholarships to attend a private school of choice for students who have experienced bullying. Beginning in the 2022-23 school year, the scholarship could be awarded to a student if they've been the victim of harassment, intimidation or bullying a minimum of three times within a school year. There must be written documentation with confirmation from a licensed mental health professional or physician.
Save Women's Sports Act
Senator Michael Bergstrom (R-Adair) believes that women's sports need protection from competitors who were born male, but now identify as female. Senate Bill 331, the Save Women's Sports Act, would designate sports teams at public and private schools in three categories based on biological sex, "males," "females," and "co-eds." "It's unfair to ask our female athletes to compete against biological males in any sporting event, unless the team is categorized as co-ed," Bergstrom said. Co-eds would be sports in which both male and female athletes participate. "We have seen this happening around our nation – young women who have trained for years to become the best in their sport find themselves competing against young men who decide to identify as female," Bergstrom said. "Now is the time for the legislature to act and head off the issue in Oklahoma."
The legislation also provides protections from adverse actions by the State Board of Education, Oklahoma State Regents for Higher Education or any school athletic or intercollegiate association. The measure also provides that any student deprived of an athletic opportunity or suffers direct or indirect harm because of a violation of the three sports categories, the option to sue the school or organization.
Racial Impact Statements
State Sen. George Young (D-Oklahoma City) has filed legislation to require racial impact statements for specific Senate and House bills, a move he says can help reduce the disproportionate impact the state's criminal justice system has on minority communities. Senate Bill 209 would require a racial impact statement for any piece of criminal justice legislation that creates a new offense; significantly changes an existing offense; changes the penalty for an existing offense; or changes existing sentencing, parole or probation procedures. Under the measure, a racial impact statement would have to be filed with the chairman in order for a bill fitting the criteria to be heard in committee. Six states – Oregon, Colorado, Iowa, Minnesota, Connecticut and New Jersey – require racial impact statements for criminal justice legislation, according to the National Conference of State Legislatures. Six additional states have established committees or commissions to address racial and ethnic disparities, including Texas, Kansas, and Missouri.
Under the measure, each racial impact statement would be drafted by the Oklahoma Statistical Analysis Center at the Oklahoma State Bureau of Investigation with help from the Department of Mental Health and Substance Abuse Services and the Office of Juvenile Affairs. Each racial impact statement would include the estimated number of criminal cases per year the legislation would affect; the impact of the bill on a minority; and the impact of the bill upon correctional facilities and services; and other matters deemed relevant to the bill at issue.
"The events that unfolded just last year across the nation further magnify that we still have a long way to go to achieve true racial equity," Young said. "Requiring racial impact statements is just one way we can work to bridge the gap of disproportionate incarceration in our state."
Home-Based Business Fairness Act
In an effort to promote the creation of small businesses across the state, state Sen. Micheal Bergstrom (R-Adair) filed the Oklahoma Home-Based Business Fairness Act. Senate Bill 316 would ensure that no municipality could prohibit a home-based business to apply, register or obtain a permit, license, variance or other type of approval from the municipality to operate the business. Under the measure, municipalities would be allowed to establish reasonable regulations for a home-based business if the regulations are tailored to protect public health and safety, ensure the business activity is compatible with residential use of the property, complies with state and federal law, and paying applicable taxes. Municipalities may not require a home-based business to rezone the property for commercial use or install fire sprinklers in a residential dwelling with more than two units. "Despite the difficult times we have been facing, the American Dream is alive and well in our country, but we must do all we can to ensure burdensome regulations are not discouraging the entrepreneurial spirit of our citizens," Bergstrom said.
Organ Transplants for Disabled
State Sen. Paul Rosino (R-Oklahoma City) has filed legislation to prohibit discrimination against a potential organ transplant recipient based solely on the person's physical or mental disability. Rosino said Senate Bill 378, creating Everett's Law, was requested by Edmond parents Rhys and Neely Gay. Their middle child, Everett, was diagnosed with Down Syndrome shortly after he was born. He also had a congenital heart defect. "He's three and has already had five surgeries. He's healthy and happy, but there's still a lot of uncertainty in his life. We've met other parents on this journey and learned that simply having diagnosis of Down Syndrome could be grounds for a child being turned down for an organ transplant," said Everett's father, Rhys. "I think most Oklahomans would be shocked to know that currently a person can be denied a transplant or coverage simply because of a disability," Rosino said. "As a father, as a grandfather and legislator, I find this inconceivable. Everett's Law would prevent such discrimination. It's something 12 other states have already approved, and another dozen are considering."
Overhaul Rainy Day Calculation
State Rep. Andy Fugate, (D-Del City), filed House Joint Resolution 1001 to change the way Oklahoma calculates how much money the state government saves in the state's Rainy Day Fund. The legislation would overhaul the calculation for the Rainy Day Fund reserve by switching the basis from general revenue appropriations to include all state spending. "The current system calculates our state's emergency savings on just one-third of all of our state spending," Fugate said. "That's because it's focused on our appropriations budget. The reality is the Legislature only appropriates about 1/3rd of what our state actually spends. The current calculation ignores federal dollars, directly appropriated dollars, and fee/license dollars." The Del City legislator hopes the pandemic and recent memories of the 2016 budget failure will push his colleagues to act on this measure. "Just a decade ago we bumped up the percentage we use to determine the state's Rainy Day Fund cap," Fugate said. "We went from 10% to 15%. That was a superficial fix. It was really nothing more than a bandaid. In 2016, when we had a revenue failure, we realized the bandaid wasn't enough to handle the bleeding." Fugate worries that saving for a rainy day by only accounting for a fraction of state spending puts Oklahoma at risk of not being prepared when we need it.
Coercive Federal Funds
In an effort to increase transparency when state agencies receive federal dollars, State Sen. Micheal Bergstrom (R-Adair) has filed a measure requiring the Office of Management and Enterprise Services (OMES) to make a "Coercive Federal Funds Report" available online. Senate Bill 296 would require the report to include a detailed description of each source of federal funds received by an agency in excess of $5 million, as well as the conditions that must be met for continued eligibility for each fund source based on relevant federal law, regulations and guidance. The conditions for each monetary source would be clearly separated into categories, including how the federal funds must be spent, how related non-federal, state or local funds must be spent; and if state regulations must meet or exceed the stringency of federal regulations. "When the state of Oklahoma accepts funds from the federal government, there are strings attached," said Bergstrom. "At times, it's beneficial to draw that money back to Oklahoma. However, there are also times when there are long-term commitments the state is making that Washington isn't going to pay for. Legislators need to know what those commitments are so we can decide whether or not they are in the best interest of our citizens who will ultimately pay the bill."
Online Government Meeting Notices
Sen. David Bullard (R-Durant) has filed legislation to improve transparency and access to legal and government meeting notices. Senate Bill 254 would require legal notices and meeting notices of government proceedings to be published online. Bullard said the 2020 Oklahoma Supreme Court case, Purcell v. Parker, established the need for additional notification besides in a printed newspaper to suffice as proper public notice, was just one example of why the new law is needed. "This state Supreme Court case and situations at various levels of government have made it apparent that online notification is necessary to properly inform citizens of public meetings and legal notices," Bullard said. "We live in a digital age where very few people subscribe to print newspapers, instead getting their information off the internet. This change will allow more citizens to stay up to date and involved with their local governments and other legal matters."